Instruction Manual for a WEITAI made WTM Travel Motor
(part 1)
I. Overview
        WTM series Hydraulic Travel Motor (Final Drive, Track Motor) is a travelling device for Crawler Equipment. It is a swash plate hydraulic motor and planetary gearbox reducer assembly. It consists of a valve block with braking function, a swash plate hydraulic motor, a wet brake, a single stage or double stage planetary reducer.
        WTM Travel Motor has been widely used in Construction vehicles, Track wheels, Crawler excavators, Drilling rig, Mining machines, track-driving drive mechanisms for rotary drilling rigs and crawler-type coal mining.
II. Main structure and Characteristics
        WTM series Hydraulic Travel Motor is mainly composed of WTM hydraulic motor, z-type wet normally closed multi-disc brake, and GFT planetary gearboxes.
WTM series hydraulic motors have higher volume efficiency and mechanical efficiency, low noise and large adjustment range, and can work under pump conditions.

High starting efficiency (up to 0.87-0.9), good stability at low speed, stable operation at 0.1 rpm or lower.

Radial size and weight are relatively small, torque is large, transmission efficiency is high (>0.85), braking is reliable, and noise is low.

Rotating housing can withstand large radial and axial external forces. According to different needs, the user can choose brakes and distributors with various functional valve components, which effectively simplifies the user's hydraulic system.
III. Model code
        For example: WTM-03A: WTM means Weitai brand Travel Motor, 03 means model No. A means design code.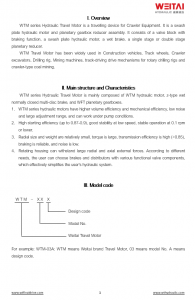 ---
Post time: Aug-12-2021